Monthly Archives:
June 2015
La Gazette l'hiver 2015 edition is now available for download.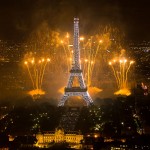 The Alliance Française de la Côte Centrale will holding its annual Bastille Day festivity on Saturday, July 11 at the usual meeting place, Erina Leagues Club. See previous Bastille Day events:
Bastille Day actually falls on Tuesday, July 14; however, we will celebrate the event at our regular meeting on Saturday, July 11. Arrangements for this are being finalized, but we know the chefs at Erina Leagues will be making some French breakfast meals.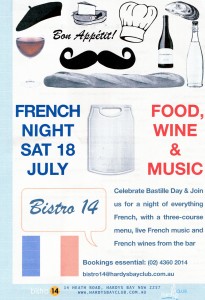 Following this year's Bastille Day event, Hardy's Bay club has a French night the following Saturday, July 18.
Our well known musical member Les Dupont-Louis will be performing there with accordioniste Narelle. A flyer and details of the Menu are attached. Also a reminder that the 10th annual 5 Lands walk will take place this Saturday – *weather permitting.* We will have a stand and Les will also display his musical talent.
The Alliance Française de la Côte Centrale now has a Facebook page!
Please feel free to like us and join in the conversation. We will be posting most of our Web site content through the Facebook page. Voila!